Welcome to
All4Paws Dog Training

Established in 2009 – the aim at All4Paws Dog Training is to teach you a fun and friendly way to train your dog with reward-oriented 'games' as well as show you how your dog thinks as a member of your family. When you become a loving 'teacher', your dog will naturally form a stronger bond with you and your mutual respect and love will grow.
With only positive reinforcement techniques and some simple skills that dogs can quickly relate to – as well as a little dedication, consistency and patience on your part – you will soon have the obedient and content dog that you want.
We also provide a Group Dog Walking service at Redhead beach called 'Beach Playgroup Adventures'. This is a fun and reliable alternative to doggy day care, where your pet can romp and play with doggy friends, under the watchful eye of two caring professionals. Each pet is treated as an individual and all consideration is given to their special needs.
Featured

Services
No-obligation 'Meet and Greet'
Good Manners and Happy Obedience training
Dog Walking (Beach Playgroup Adventures)
Home Pet Care for dogs, cats and all other household pets
No-obligation
Meet and Greet

Prior to commencing any service, a no-obligation 'meet and greet' is organised, to gather information regarding any wishes you may have with the care or training of your pet.
It also gives your pet the chance to become familiar with us and for us to assess the type of training that would be suitable for your dog's individual temperament, age and current level of obedience.
If you are interested in the Beach Playgroup Adventures, then we will bring along one of our playgroup dogs, for a friendly introduction. During the Meet and Greet we will also teach you how to ensure that your dog will come back to us while leash free on the beach.
Good manners
and
happy obedience
training

Training games teach your dog to solve problems and improve their ability to learn new behaviour and follow your commands.
Only positive reinforcement techniques are encouraged and are taught to you, the owner, through a series of four training sessions. You will be introduced to a fun and friendly way of dog training, using a 'clicker' and will take home a clicker, whistle, treats and easy step-by-step instructions to use as a reference.
The idea is that we train the owner to train their dog – that way the owner becomes skilled enough to keep going on to new behaviors, even after the four sessions have ended. The training program covers:
Session 1
Clicker training introduction and conditioning.
Paying attention to the owner (Dog's name and eye contact).
Following a Target and 'Touch it'.
Session 2
Recall both on and off the leash, whistle recall from a distance.
Loose leash training.
Session 3
Sit, Stay, (including long duration stays) down, (including distance 'drop') and wait.
Session 4
Gentle introduction to other dogs and socialization.
Behavior assessment regarding non-aggression to humans and other animals.
Fun stuff such as: Find the keys, Fetch, Speak/Shhh, Hide and Seek and Gimme Five.
Behavioural issues such as: barking, jumping and pulling on a leash can be addressed with reward-oriented techniques that are gentle and fun.
"With patience, practice and persistence, your bond will grow and you will soon have a dog that becomes a greater joy in your life."
In April 2016, my husband and I decided to rescue a dog. When we brought him home we found that he was aggressive, he attacked the grandkids and he didn't like people coming to the door, he barked and growled at them. He also attacked other dogs that he saw or came near him.
We had heard about Wainoni, so we looked her up and left Bently with her one day a week and overnight and for 2 weeks when we went on holidays. During this period Wainoni worked with Bently and we could see a significant improvement in Bently's behaviour. She recognised that Bentley was displaying fear/anxiety and gave us guidance on how to correct his aggression.
Today, 15 months later, he is a very different dog. He now goes with her every Thursday to the beach. He waits at the front door for her to come and runs to the dog van for his trip to the beach. He loves guests who come to the door and is all over the grandkids and plays with them until they go home.
All this is due to the love, care and guidance provided by Wainoni.
— Diane Humble (Bently) —
Group dog walking service
(Beach Playgroup Adventure)

Our Dog Walking service is not just about walking and exercise for your dog – it's about having a happy and content dog so that bad habits, (which are often caused by boredom and isolation) like barking, digging and chewing, don't become a problem. Being 'pack' animals, it is vital for every dog's emotional and physical wellbeing to be exercised daily and to have regular canine companionship.
So while you are busy with kids or at work, your pet can enjoy socialisation with canine friends of similar size and temperament.
At Redhead Beach they enjoy miles of sand, surf and fresh water lakes – they learn how to greet other dogs politely, enjoy fun and games, one-on-one leash training and 'whistle recall'. Looked after by two experienced carers who love animals, we make sure that they come home, all tuckered out and with a big smile.
Away from home for up to 4 hours (depending on your location) – your pet is provided with fresh water and all-natural treats and is secured safely while travelling in a purpose-built van called the 'Tail Wag'n' 😊
We also send you regular email photos and updates, so that the fun is shared.
Disclaimer — If your pet becomes ill or is injured, he or she will be taken to your regular vet and of course you will be notified. Though all precautions are taken to ensure the care and safety of your precious pet, no responsibility or liability will be taken by All4Paws Dog Training and Pet Care Service or their authorised representatives.
Claire has great rapport with animals. She kept my two kittens happy with daily visits while I was away recently. When I got home, all was spotless and she took care of everything. She was great in keeping in touch with me, so I never worried about them the whole time.
Claire is so practical, experienced and kind and obviously loves and cares for a wide range of animals. Top recommendation.

— Rosalind, Teralba —
Claire is absolutely AMAZING! ... Our pets were pampered while we were away – as were we 😊. We received SMSs and pictures of our staffy, Joe, and regular updates of how he was and how the weather was, whilst were were away.
Claire is such a caring, polite and genuinely honest pet lover/minder. I highly recommend Claire to care for your pets, regardless of your needs – she will meet and exceed them.

— Brad, Coal Point —
Locations

and fees

All 4 Paws Dog Training and Pet Care Service is available at convenient locations in the Newcastle and Lake Macquarie region. Service area covers most Lake Macquarie suburbs between Toronto and Redhead beach.
Belmont North
Bennetts Green
Blackalls Park
Bolton Point
Cardiff South
Dudley
Fassifern
Fennel Bay
Lakelands
Gateshead
Hillsborough
Jewells
Kahibah
Macquarie Hills
Marmong Point
Mount Hutton
Redhead
Spears Point
Teralba
Tingira Heights
Toronto
Warners Bay
Whitebridge
Valentine
All enquires outside of these areas are welcome, but may incur a $10 travel surcharge.
Training
(includes 4 sessions)
At my location (Bolton Point) – $280
At your location – $360
Single Session Training
At my location (Bolton Point) – $80
At your location – $100
Group Dog Walking Service

(Beach Playgroup Adventure)
Dog walk and training at Redhead Beach – $40
(In our professional care for up to four hours – depending on your location)
Please ask about receiving a 10% discount for multiple weekly dog runs
Wainoni: 0407 008 004
Email: info@all4pawsdogtraining.com.au
Home Pet Care – Pet Sitting

(Dogs, cats & all other household pets)
Every pet is an individual so costs vary accordingly.
Please contact Claire directly for locations, fees and availability.
Claire: 0448 622 073
Email: galeclaire00@gmail.com
Testimonials
(Even the dogs like to write a testimonial about this fun beach run!)

Hello, my name is Abby. I'm a 2-year-old dog. Me mum was a beagle and the ol dad was a KC Cavalier Spaniel and I live in Fennell Bay. Late in 2016 I was introduced to Wainoni and her friends. Wainoni owns All4Paws Dog Training NSW.
Wainoni's doggy friends are my best friends now. Every week on a Wednesday, I get picked up in a very special All4Paws van called the 'Tail Wag'n'. It was designed just for me and my new friends. Rainman always gets the front seat, not sure why.
Now to the good stuff – this is where I get excited! We go to the b… the bea…goodness I can hardly say it, here goes: the beach! yes, that's it.
The experience is altogether exhilarating, you didn't think a dog knew that word, did you? Anyhow, I run for kilometres and the best bit for me is swimming.
I L-O-V-E to swim. Not all my friends like to swim but I can watch them while I swim, we're all different I guess, they must just love to run and play all the time.
Wainoni lets us choose, Ooh, she's SO good to us. She even has gluten free treats for us sometimes, d-e-l-icious after a hard run in the sand.
That's about all from me, what else can I say, I'm just lucky my owners let me go off for a few hours of delight away from home over at the beach. Home's good too though, I sleep for about 3 hours after I get home. Night Night, it's time for that sleep now.
PS: A slurp and a lick to you Wainoni, I love you Miss, a woof at ty woof – from Abby (and big thanks from her mum, Trish).

I just wanted to say a very big thank you for all that you have done for us with Cooper. From the minute you met Cooper you have had full control in such an amazing gentle way.
Cooper has always ran away from all of us and since being with you the change has been dramatic – he actually listens. Cooper looks forward to his beach runs, he looks out for you and when he sees you he is so excited.
We are so grateful for Wainoni's expertise. I would highly recommend Wainoni's services to anyone wanting the best care for their dog. Thank you for all your amazing work!
Sharon (and Cooper) – Belmont

Our dog Lando has been going out on doggy play dates with Wainoni for five years now. He pounces around with excitement when he hears her van pull up and the happy yaps of his doggy friends.
It has been a great way for him to get exercise and training with both of us working full time, as well as associating with other dogs. Lando is now becoming vision impaired, Wainoni keeps this in mind and has ensured that his playmates and areas they visit stay the same. We would highly recommend her service.
Terri and Jonathan (with Lando) – Eleebana

One of the key decisions for me in taking on a dog was being able to keep him occupied during the week as I work full time. I came across All4Paws in 2012 and was delighted to meet Wainoni and to learn she is such a dog lover and felt the same way as I did about their care.
Nothing makes me happier than coming home to Declan after his playgroup days knowing he has had a great day out with his doggy mates and he's exhausted after running and playing on the beach. I often get videos from Wainoni to make me jealous of my dog's life while I'm at work! They always look so happy together at the beach.
Wainoni is kind, loving and generous in her care for Declan. She treats him as if he is her own dog and I never have to worry when he is in her care. I love seeing his happy face when she turns up to collect him and he trots off down the driveway without so much as a goodbye to me. Declan just adores Wainoni and they have become very special friends.
I often ask Wainoni to keep him at her place after playgroup if I'm going to be late home from work and she is always so kind to do that for me at no extra cost.
Basically, I couldn't have a dog if it wasn't for Wainoni and All4Paws and I couldn't recommend her enough to anyone considering care for their precious pet.

Wow. We have nothing but praise for Wainoni and her love and care for our dog Louie – a 13-year-old spoilt whippet. Louie was always a fussy dog with other dogs and people but from the moment he came into contact with Wainoni, he's been comfortable.
Louie is an escape artist with storms, so now he takes himself off to his second home (Wainoni lives near us) and is safe. This gives us peace of mind. Even when it's not raining he goes visiting by himself.
He is completely at home with Wainoni and her dog Rainman is now his best mate. With guidance from Wainoni, Louie even has accepted her kittens – even though he started out as their arch enemy.
We cannot praise All4Paws enough as they provide an outstanding service for us and our precious dog Louie.
Michael and Robyn (with Louie) – Bolton Point

Wainoni has been taking our dog Luna for a weekly beach walk for the last 18 months. Luna gets so excited to see Wainoni's car pull into the driveway, it is such a joy to see the bond they have formed.
We often get photos and videos of Luna while she is on the beach run having a ball with the other dogs, playing in the water and running around on the sand.
We knew from the first time we met Wainoni that she truly loves and cares about the dogs she looks after. We have no hesitation in trusting her in looking after our precious girl and are very grateful for the service as it gives Luna a fantastic opportunity to socialise with other dogs and burn up lots of energy. Thanks Wainoni.
Jess (and Luna) – Belmont

Over a year ago, I became aware of All4Paws through one of my daughter's friends, whose dog went on Play Dates with other dogs under the watchful eye of Wainoni and Claire.
I used to feel guilty that my boxer dog Cassi had only me to play with, and at my age of 78, that wasn't a very exciting play. Cassi was a very shy and nervous dog, and was not very responsive to commands before going on her Play Dates. But now, she cannot wait to greet Wainoni and get into the van with the other dogs. And she is much more responsive to commands.
Going on these Play Dates means that our dogs that have only their humans to play with, can now socialise with other dogs and breeds, and learn to take commands from other people.
I would like to thank Wainoni and Claire for including my Cassi in their Play Date Group. I trust them to give all the love and care that I myself would give. I also have some wonderful videos of Cassi and the other dogs playing, thanks to Wainoni. I highly recommend Wainoni Sands of All4Paws to anyone contemplating having their dog trained, exercised and being able to socialise with other dogs.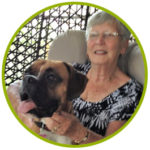 Elaine (and Cassi) – Belmont North


Greg and myself have a beautiful boy, Clancy. Unfortunately, he was chained and kicked when he was a pup. We rescued him when he was 1 year old. Because of his bad experience, Clancy became very scared of people and his level of confidence was very poor and he did not want to be with other pets or people. He was very timid and very quiet.
Some close friends told us about Wainoni and how she looks after their pet dogs. We met Wainoni and oh boy, she's so lovely as a person. Clancy was reluctant in the beginning but after going with Wainoni and the "gang" for about a month, the changes in Clancy became very obvious.
He is happier, more attentive and more sociable. His self-confidence improved a lot. He smiles more and loves to interact with people and other animals. Now, Clancy always looks forward to hearing the voice of Wainoni and the barking of his furry friends every Tuesday. We are so thankful how Noni looks after Clancy and how she loves and spoils him. The way Clancy looks at her also shows his love for her. Noni calls Clancy "her little man". We appreciate you, Wainoni.
Lauren and Greg (with Clancy) – Cardiff South

Our very own 'dog whisperer' Wainoni takes care of our precious furry Bichon Frise family member, Fletch, on a weekly basis. As we all work, previously Fletch stayed at home without any interaction with other dogs and became very sad at times.
This is where Wainoni stepped in, taking him for beach walks with other furry friends; he is so excited to see her when she arrives as he knows its playtime! Wainoni takes the time to send photos or videos playing at the beach having fun, this alleviates our angst knowing the TLC she provides.
Wainoni has also taught Fletch his more challenging exercise of recall (coming back when called) or stopping in motion, without a lead. Leaning recall has created a positive behaviour change in Fletch, which we know could ultimately could save his life.
I would highly recommend Wainoni to potential customers as a dedicated pet lover.
Adele (and Fletcher) – Warners Bay

Max has been going to playgroup and doggy beach adventures with Wainoni for 5 years now and he loves it. Not only does he enjoy the interaction with other dogs but also it is really good fun and great exercise for him as he is part border collie and he needs a regular run. He looks forward to going and is so excited when he sees Wainoni pull up in her customised doggy wagon!
We have found Wainoni to be reliable, caring and careful and Max truly loves her – we often say we think Wainoni is a dog whisperer!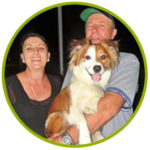 Julie and Craig (with Max) – Eleebana

Fritz has been going on walks with Wainoni and all of his friends for over two years now. On the rare occasion that I am home to see it, I can always tell when Wainoni is on her way because Fritz will get very excited for about a half an hour before she turns up, and then when she does, he bounds to the front door crying to be let out to see her. I never see his tail wag so much as when he is about to go on his beach walk.
Wainoni walks Fritz and his friends for such a long time along the beach, and then they all get dropped home. Fritz is gone for hours and when he gets home, his eyes are so happy and he is exhausted and has the best night's sleep.
I work full time and one day a week, I know that Fritz is going to get the longest walk ever and have fun with some of his doggy friends. It's a relief to know that Wainoni is coming and that I can trust her with him, and trust her to let him in and out of my house so carefully each time. I would recommend this to all fur-loving people.
Rachael (and Fritz) – Charlestown

Our dog, Molly, is very territorial and as a consequence reacts unfavourably when other dogs are in the vicinity when she's on the lead or otherwise.
Hard to imagine though when you see the sort of dog she is (cavoodle).
Finding All4Paws was a fantastic piece of good luck. Now every Tuesday as the van pulls up Molly starts to get incredibly excited to be with her new friends.
It has only been a short time, since joining the 'Doggy Playgroup Adventures' but already we can see the difference in how she reacts with other dogs, she's off the lead and comes back when she hears the whistle – we couldn't be happier.
We especially like the short videos we get during her time at the beach with All4Paws. Thanks Wainoni!
Debbie (and Molly) – Tingira Heights

Our little Bichon Candy has been a regular at All4Paws for 5 years … it all started with Wainoni doing some 'Recall training' with Candy in preparation for her playgroup days as we wanted her to socialise with other dogs since we work full time and wanted her to have a fun day out.
Every Tuesday, before she has her outing, as soon as I mention "Wainoni is coming today" she waits at the back door very excited and eager to get picked up for her adventure. She comes home one very excited little girl and is very relaxed and tired for the rest of the evening.
We could not speak more highly of Wainoni at All4Paws, she treats all her furry friends like they are her own and Candy absolutely loves her. Wainoni has, without a doubt, helped make Candy the well-behaved dog she is and a great friend to her other furry friends in the playgroup.

We cannot speak highly enough of Wainoni and the wonderful service that she has provided to us. Wainoni has an obvious love of all animals and we have complete trust when Rosie is in her care.
Rosie is a very busy border collie and isn't just our pet, she is a member of our family. We know that Wainoni gives her as much love and affection when she is in her care, as we do when she is at home.
Wainoni has been taking Rosie for beach runs for approx. 3 years and we love that we get regular photo and video updates of her swimming and playing with the other dogs in her group. Rosie learnt to swim (with very gentle encouragement) during one of her weekly beach runs and we were able to watch this in a video that was messaged to us while we were at work.
If you are looking for a professional and caring dog training and pet care service, please don't hesitate to contact Wainoni.
Mark and Vicki (with Rosie) – Eleebana